They said it's not enough
Just to shoot us down
It's a sound that's systematized
It's a noise just to drown us out
But when your time is come
We'll all be there
Just to watch you fall
And then one by one
All the parasites will just fall off
You put your vote in a ballot box
This one's marked UNDP
Inscribe your
Tyrant's name in blood
Choice is the guillotine
We'll put our faith in Afro Pop
In a decolonized context
Espouse the aesthetes'
Contempt for ethos
Irony. Utility. Pretext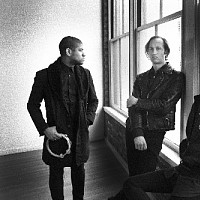 "Embrace primitive man"
(La-la-la-la-la, you say)
"Destroy primitive man"
(La-la-la-la-la, you say)
"With our art
We'll transcend again"
You put your hand out to shake
Then they export you in chains
You fought
For centuries for change
And they gave you
More of the same
They swapped the dogs
And the cross
For sublimated forestalling
They changed the names
Of the boss
Until you forgot who it was
Find your favorite color
So you can wash it out
In your hymns
Correcting primitive cracks
Into straight lines
Superiority is born again
We'll put our faith in Afro Pop
In a decolonized context
Espouse the aesthetes'
Contempt for ethos
Irony. Utility. Pretext
But all you can say is...