anxietys web
panic starts to set in
the time to trust's at hand
when you see me there
know that it's for you
and i'll no longer fear it
they'll beat me down and break my skin
an effort to destroy
and though i feel alone
and minutes feel like days
my heart still prospers
the body is a shell
the soul must endure
until the time's over
though he tempted before
and knows he cannot win
the lion's hungry
the things i've done throughout this life
haven't always been pure
and though i'm under this cloud
my darkest shroud
the light is coming
and so i reach for you
my hour of need has come now
and i need you
so let me die like a man
and the glory be yours
for i know now my place in you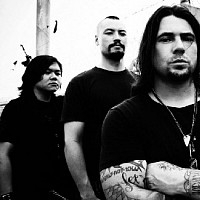 so let them hate me now
and let them hurt me now
for i will never change my heart
and that's a solemn vow
and if you see me standing there
know it's not the end
i will live inside your heart
until we meet again
and so i reach for you
my hour of need has come now
and i need you
so let me die like a man
and the glory be yours
for i know now my place in you
i'm home!
take me now coz i'm ready to go
these are my final words
regret nothing in the face of this fear
all pain now disappears
i can taste the death inside of my mouth
it's overwhelming, wipe the sweat from my brow
as it gets close i feel i want to give in
but my heart screams not yet!
life's a gift given freely to all
make the choice to rise or fall
before you know it, it is taken away
so what have you done? tell me
it's getting darker, i'm about to pass out
my body's numb as it begins to shut down
my last breath escapes my dying body
my mind sleeps now, my heart is free...