I am…
holy warbringer
sword in the hearts of the false
the one in true battle
thorn in the eyes of the weak
havoc in the name of what I believe in
demise and mayhem over mankind
I provide the weapons of mass destruction
and support the ways of suicide strikes
troops of holy war in my command
ready to die at the paradise gates
ready to fight to the very last man
this is their destiny, this is their fate
warbringer!
wage war!
warbringer!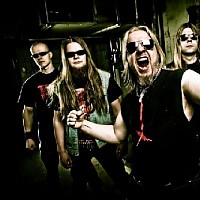 I am…
merciless purist
man and the ultimate mission
western jihad
no compromise
fanaticism harnessed with intelligence
modern tactics mixed with new-born faith
lethal ways to achieve the goals
greater than every sacrifice made
prepared to lose everything I have
yet with joy I strongly proceed
putting my fate in the hands of god (cunt!)
I spread this ultimate havoc seed
hear this psalm before the storm
waging war beyond all norms
take the first step - kill the ones you hate
by the grace of god everyone must die
stay in the path - kill the ones you love
western jihad, western jihad… no compromise!
I am…
holy warbringer
sword in the hearts of the false
the one in true battle
thorn in the eyes of the weak
holy warbringer
fanatic hater
merciless purist
no compromise