At least she knows how to rock'n'roll
She gives it all, she gives her soul
Can't stop ! she just can't stop
Hot flying woman keeps it on top
There's a love, lots of desperate desire
With hungry passion, she takes me much higher
Come on baby, I'm down on my knees
You're such a hard one to please
Chorus:
Over the top-she just can't stop
Over the top-she just can't stop
I'm on the edge of cracking up
Under her thumb, hung on a hook
I'm a slave to the demanding will
There's no love, she's out for the thrill
She's in that type of nowhere mood
That place and time when there's nowhere to go
Come on misery, it's all got to stop now
You drive me over the top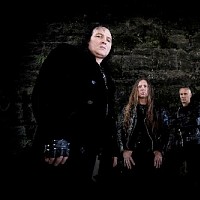 Her mother went and told me
Not a drill, not a toy
But I told her straight out mrs.
Some girls are worse than the boys
Then I told her she drains the life out of me
Then she comes back and asks for more
I'm taking all the pills I can get
But still I'm weak and on the floor
Sometimes I think that I won't last
She's driving me too far too fast
I'm pretty hot myself you know
But she's a raging inferno
I mean a little inferno maniac
Oh! Oh! Oh! She can't stop!
At least she knows how to rock'n'roll
She gives it all, she gives her soul
Can't stop! She just can't stop
Hot flying woman keeps it on top
There's a love, lots of desperate desire
With hungry passion, she takes me much higher
Come on baby, I'm down on my knees
You're such a hard one to please