Call me Annabella
Gold is what I hold
No money, I don't care
Just gold in my hair
No silver, no copper
Cassette on my shoulder
I am richer than Richard III
I don't need to work
Lights go out
I'm all alone
Very far from home
Then I looked
And he was hooked
And said to me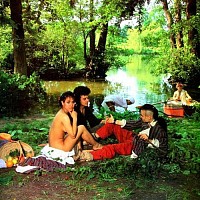 No more gas?
Tough time
What do you mean I can't go to the drugstore?
I can't get my hair permed anymore?
No more gas!
Just gold, he said
Gold on my head
My name is Annabella
Gold is what I hold
To get together with the seller in the supermarket
I lost my cassette
In the launderette
I need one to complete my outfit
Take my pick
It's my favourite trick
Before someone grabs it!
Lights go out
Time to flirt
So he looked up my skirt
Then I boxed
And he was hurt
And said to me
No more gas?
Tough time
What do you mean I can't go to the drugstore?
I can't get my hair permed anymore?
No more gas!
Just gold, he said
Gold on my head
D'you love Annabella
Gold is what I hold
Always me and company
I see gold as necessary
I love gold
And sensual crime
It's my magic and my sign
Sticking to my hair and feet
Radiating oral heat
Lights go out
Be romantic
I wanna fall in love again
So take my gold
And hold my head
boyfriend.
No more gas?
Tough time
What do you mean I can't go to the drugstore?
I can't get my hair permed anymore?
No more gas!
Just gold, he said
Gold on my head