Came down from woman's womb
Into the ensnare world
I grow and copulate with the holy man
Carried into the myth
I jump into the valley of lie
All is bared
Possessed makes blind
Sewed eyelid holy man
Many dimensions of truth
Enter the market of … Propaganda
Written down into the books
I ripped the shackles myth with a knife
Truth market of the truthless
Covered the horor revelation of the future apocalypse
No salvation for us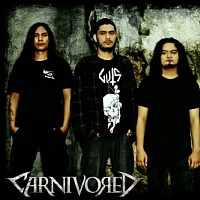 I laugh for human race mind invasion
Seeing the plague had been rooted
People intercourse with hard-line books
Humanity is dead.
We can't find our self, lost
Black heaven as the reward
Morality are trampled by religion
Empathy are raped by greediness
Ignorance are eternal
For every drop of blood that trickled by religion
A control weapons of mass
Which fell into the hands of human
Controlled by the flesh, came out from the black hearts
Churned and mastered conscience
At the end of the age, Ignorance is again raised ... BURN!
Came down from woman's womb
Into the ensnare world
I grow and copulate with the holy man
Carried into the myth
I jump into the valley of lie
All is bared
Possessed makes blind
Sewed eyelid holy man
Many dimensions of truth
Enter the market of … Propaganda
Written down into the books
I ripped the shackles myth with a knife
And burn it!