From the threshold of salvation we're unleash
In the darkness of dimension we insist
We inflaming our spirits to consist
No defiance to afraid for we're resist
Rot from conspiracy, rise beyond monstrosity
Incising every mind, lacerate it from behind
We're live to take your mind, and degrade you from the sun
Every inch that we're fight for, every carnage that we've done for
Inception for the praise, inception from the past
like the dawn that slowly lifted up from the darkness
with the glare of the infiltrate / (slowly) into the various openings.
We slowly lifted self to the surface with all the dark side

Will coming by helpless, lick (and) became slave.
With (the) naked eye, (so) blinded (by the) manipulation. Worship the horns, our greatness.
This conviction (shall) embrace (the) world covered in blood. To him your shall united.
Trust, faith, (and) religion (has) been silence of the past unable to denied
by a theatrical dagger which (have) sharpened (a) long time.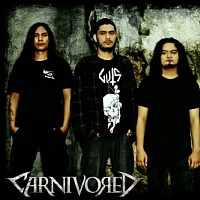 that bandaged by the progress, which created until the salvation of us.
everything is created. Ideological basis, made human faith to becomes weak,
Powerless, colonized by their own dependency.
We held the fate of humans, their would worship
their will be beg their own future.
kneel down and worship, pleaded given paradise
Conspiracy is formed, sharpen knives from the ancient, the torn curtain.
The virus is formed by us, we trample the mass media, spreading terror the human mind.
Treasure, dining, sex, salvation, eden. Who is got? it not be bought!
They will be come worship, to sell life and faith very cheap.
In order to eden manipulation, to the salvation of imitation. They are very starving to everything
Be weakened by disease our creation, opinions would not powerless to resist.
Because we are in control it planet, leave all beliefs,
assembled become one and worship, faith is dead, destroy their all, be dying ideology
We are the authority. We great and stronger!. Will leads your into a
reforms the world
Our order your life on theatrical the arrival of his light, religious human desire.