Quiet waters - oh God, why?
A school of sharks passes by
I am fed up with this
eating same salted fish
Calm prevails, the wind is slow
We should sail, but we row
I can't find the reason why
You led us here to die
These stiff-necked pirates
Have seen Your power and still moan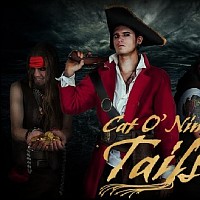 Yo ho ho, point our bow
To the promised land
Let Your light be our guide
On this journey
Yo ho ho, wind will blow
Our boat to the strand
Hear our call, as we haul
Oh God, lead us to Your
Promised land
Don't you dare doubt His might
Keep in mind what's in sight
Wind and sea, obey Him
When He speaks, retreats sin
Tailwind rise, a strong gale!
End of crises, hoist the sails
Doubtful tar, God enjoins
storm wind yarr, grid your loins!
You stiff-necked pirates
Have seen His power and still moan
Yo ho ho, point our bow
To the promised land
Let Your light be our guide
On this journey
Yo ho ho, wind will blow
Our boat to the strand
Hear our call, as we haul
Oh God, lead us to Your
Promised land
Though time crawls
We keep our course
Island by island
We approach Your shores
On Your land
We will stand
After the hourglass
has trickled all its sand!
Yo ho ho, point our bow
To the promised land
Let Your light be our guide
On this journey
Yo ho ho, wind will blow
Our boat to the strand
Hear our call, as we haul
Oh God, lead us to Your
Promised land