One Day at Open Sea (pt. I)
Pirates - they rob and steal
Cutlass clank! Those who swank, walk the plank!
Every man, every reckless captain feels:
They show no mercy!
Poor sailors had some fear
I had none: I had fun with my gun
Cannons sung and as long as there was rum
I showed no mercy!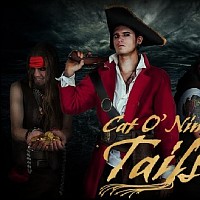 Once more the royal flag
Yo ho, yo ho, yo ho!
Drops down and turns to black!
Yo ho, yo ho, yo ho!
One day at open sea
I woke up, filled my cup, took a sup
Headache smites, why must this sun be so bright?
It shows no mercy
I glanced to the horizon
full surprise, that my eyes memorized:
They were here: a huge armada, who
showed no mercy
We were out of cannonballs
If I sum up, how come, out of rum!
"Dead we are: they don't just come this far
To show us mercy"
Beaten and arrested
On the land we did strand and got hanged
Lucky me - I succeeded to flee
It was my mercy
My loyal pirate crew they'll die
Yo ho, yo ho
I saved my grievous neck, but why?
Yo ho, yo ho
Is there a reason for my life?
Yo ho, yo ho
Though I've been spreading fear and fright
Yo ho, yo ho
As a young sailor-dressed boy
Yo ho, yo ho
My dreams were soaring, not destroyed
Yo ho, yo ho
Sailor-Dressed Boy (Pt. II)
Where could I go and hide?
They'll hang me if I show up
I think and then I sort of find
A smoky harbour pub
In that trusty, gloomy inn
Countless sea dogs I have seen
Aye, it was the times when we
Just dreamed of the life at sea
Old good times, I call you back from where you left me
Old good times, I want to dream again and joy
Old good times, to smell the salty odour of sea
To be the same young sailor-dressed boy!
Storm and Peace (Pt. III)
I ordered meat from a tattooed cook
Who cut out questions well
I sat down, saw an old black book
Like those that church men sell
I glanced the worn-out pages through
until something stood out
I suddenly just somehow knew
What the book was all about
Now obeying divine plans
I am sailing high seas
Though there are storms and the waves dance
Inside of me I find peace
Now obeying divine plans
I am sailing high seas
Though there are storms and the waves dance
Inside of me I find peace
As I kept on reading verses
Something changed in me
The God break all the beating curses
I felt I was free
I understood that I've been acting
All these years so wrong
See, I have found the world attracting
It's not where I belong
Now obeying divine plans
I am sailing high seas
Though there are storms and the waves dance
Inside of me I find peace
Now obeying divine plans
I am sailing high seas
Though there are storms and the waves dance
Inside of me I find peace