Jsem stín v noci, stále piju víno.
Brečím celou dobu, ukonči tvé lhaní.
Černé kočky v mých očích, sukuba na mých stehnech.
Mám démony v hlavě, sekačka je připravená, až zemřu.
Malý bohatý chlapeček, vypadá uhlazeně.
Vždy se předvádí, protože jeho tatínek je kokot.
Vždycky mrtvý uvnitř, protože jsi zdržel holku, kluku.
Vždycky jsi zmeškal známky, nikdy neuděláš seznam, kluku.
Cemetery Drive, založil jsem naši rockovou kapelu.
Každý čeká na další věc, kterou vydáme.
Udělali jsme to jednou, udělali jsme to podruhé jak nic.
Zůstaneme zkurvysyny, ne žertujeme.
I'm a shadow in the night, I be steady sippin' wine.
I be crying all the time you ain't nothing, quit your lying
Black cats in my eyes, succubus on my thighs.
I got demons in my mind, reaper ready when I die.
Rich little bitch boy, ever looking slick boy
Always acting out 'cause your daddy is a dick boy.
Always dead inside 'cos you hung up on a chick, boy.
Always miss the signs, you ain't ever make the list boy.
Cemetery Drive, yeah i made my own rock band.
Everybody waiting for the next thing that we dropping.
We did it once, do it twice like it was nothing.
We here to stay motherfucker we ain't bluffing.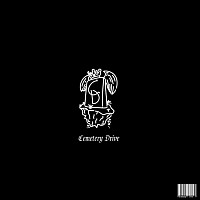 Public drinkin outta habit, bailed my homie out the county.
Swear to God I'm not an addict, I just I keep that powder 'round me.
On my person, yea my version of events be quite different.
I ain't even fucked up, officer I'm light sippin.
Lights strobbin, wine open, will I find focus?
Imma weed toker, seed sower, till the beat over.
Never be sober… Cemetery Drive.
Imma put it in reverse, Revolution #9, yuh.
Ain't no redeemin me, ain't what I seem to be, mean to be, shit'll be fine I guess.
Ain't nothin real to me, 'cept what I'm still to be, kill a beat, even when I'm depressed.
Yellin like I'm MC Ride, Exmilitary.
Till I'm dead feel me and my pen bleed dry.
They wanting more son (morrison), I feel like Jim boy.
Knocking Doors down we coming in boy.
Me hoy minoy, why they gotta copy me?
Honestly, bite my lines, put 'em in some tin foil.
Now that's some food for thought, fluctuate my mood a lot.
Sitting in the corner wondering who am i?
Sometimes i feel like N.E.R.D. '02 or so.
Sometimes i feel like Kurt In Utero.
How we go from Iggy Pop and Jimmy. Page to Lil Yacht and Iggy Az?
Don't milly rock or hit the quan when I'm on stage.
How we go from Chuck Berry to Kate Perry right?
From Wu-Tang to Cemetery Drive, aight.
When I get my sweet revenge give it three cheers.
When will I see the end? I give it three years.
Won't stick around with no reason to be here.
Reinvent the wheel off rails you better steer clear.
Young sticky kid came up on the outside.
Young silly wrist all they do is spout lies.
I don't think about the words, I'm all about vibes.
I just got a message and ignored it cause my clout high.
Really I'm a shitty person, please don't let it be excused.
Every track a greatest hit and still it hardly make the news.
I don't got a lot of love from people who i upward view.
So why should I be different, take the time out just to fuck with you.
That's the single instant that i noticed I was incomplete.
Cloudy hit me up and told me homie let's make history.
I didn't even hesitate I knew that shit was meant to be.
And now my keys are black and white instead of tapping RGB.
We really made a rock band, drumming on our desktops.
Put a couple homies in it, ran it like a sweatshop.
Killed the game and shut it down, left that shit in deadlock.
Way I see it going I won't have to get a desk job.