[Verse 1 - Chanel West Coast:]
Where all my bitches?
Stacking up these riches
Sing your whips like bridges
Balling out, my bitches
I'm about them digits
Money tall, yours midgets
Never dull, I switch it
Barred your bitch, bridge it
Keep them haters hating
For my spot they waiting
Like hotels in Vegas
The odds in my favour
Why you salty, bacon
Cause you see us out here caking
I drop it low, ass shaking
Homies got to go if they faking
Go harder than a porn star
Do it, that's the sports car
Smoking dope, bill mark
Dropping dough so far
Middle finger to the haters
Getting drunk, no chasers
Turning up, no neighbours
Cause we sitting on ten acres
[Hook - Chanel West Coast:]
Let's get this party started
We gon' finish when we finish
Bass up in my system
That's enough to get me twisted
No matter where we at
That motherfucker packed
Party to my limits, let the haters live with that
Party party party, inviting everybody body body
Where that after party party party?
Damn, so fucked up
And I don't give a fuck
[Verse 2 - Honey Cocaine:]
Tell me who fresh like me?
Walk up in the club, we don't need ID
Who young, who rich and a G like me?
I work too hard cause the money ain't free
Now I'm balling, look bitch I'm balling
Me and my bitches hella boss, why he calling?
These niggas falling, but never do I show any type of love
Thug bitch, never been the type to love
But I'd rather take shots till the night is up
Bring motherfucking bottles bitch, bring the cups
Why you turnt down, turnt down for what?
Bitch, turnt down for what?
My homie just die, bitch burn it up
People think they know who I am
Why I party every night?
You will never understand
It's a cold world so pour me cold shots
The party so packed, I see the whole block
Wassup?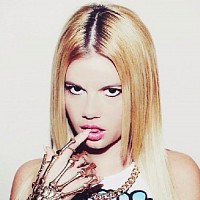 [Hook - Chanel West Coast:]
Let's get this party started
We gon' finish when we finish
Bass up in my system
That's enough to get me twisted
No matter where we at
That motherfucker packed
Party to our limits
Let my haters live with that
Party party party, inviting everybody body body
Where that after party party party?
Damn, so fucked up
And I don't give a fuck
[Verse 3 - Chanel West Coast:]
Dripping in that [?]
Colour [?]
You better bare me, like we eating chow mein
Don't ever doubt me, bottles cost one G
Models all around me, waiters like allow me
I got love for everybody out there
Doing what they wanna like nobody here
It's the weekend so let's get loose
Worked so hard so we can get loose
Shots hell hot, a chill, red goose
Straight up liquor, we don't need no juice
I got figures pouring up like a boost
Damn with Wayne, Wiz and Amber
So turn up like that vegetable
We feel incredible
100 with no decimals
Broke down on my genitals
Don't be scared, it's edible,
Go hard, let's get se****
Keep it up, pedestal
[Hook - Chanel West Coast & Honey Cocaine:]
Let's get this party started (Yeaaaah)
We gon' finish when we finish (Yeah)
Bass up in my system (Word)
That's enough to get me twisted (Bitch)
No matter where we at (Nah)
That motherfucker packed (Yeah)
Party to our limits
Let my haters live with that (Uhhh)
Party party party, inviting everybody body body (Yeah)
Where that after party party party? (Turn up, I need all these bitches to turn up)
Damn, so fucked up (Going all in right here)
And I don't give a fuck (Real talk)