Jack and Jill went up the hill
to have a little fun
Jill's got even cause Jack's been cheatin'
And Jill she had a gun
She said, trigger, trigger, 22
My single action set on you
Bullet, bullet, what's the plan?
It takes a girl to kill a man
I got six friends
And they all know your name
And my six friends
all waiting to take aim.
They go pop, pop, bang, bang
Should've heard me when I said
It goes click, click, boom, boom
I shot you, now you're dead.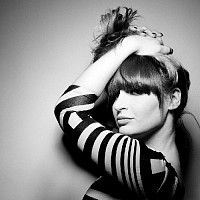 Now Jack and Jill stayed on the hill
And Jack he begged and cried
Jill just left him down the shaft,
couldn't fix it if he tried
My double barrel, 45
Bang you're dead, I come alive
I shot you once, I'll shoot you twice
I'll make you dance, you're awfully nice
I got four friends
And they know that you're alive
I got four friends
And they're ready to be fired
They go pop, pop, bang, bang
Should've heard me when I said
It goes click, click, boom, boom
I shot you, now you're dead
They go pop, pop, bang, bang
Should've heard me when I said
It goes click, click, boom, boom
I shot you, now you're dead
They go pop, pop, bang, bang
Should've heard me when I said
It goes click, click, boom, boom
I shot you, now you're dead
They go pop, pop (pop, pop)
They go bang, bang (bang, bang)
They go click, click (click, click)
Boom, boom, aaahhhh
They go pop, pop, bang, bang
Should've heard me when I said
It goes click, click, boom, boom
I shot you, now you're dead
They go pop, pop, bang, bang
Should've heard me when I said
It goes click, click, boom, boom
I shot you, now you're dead