O lord of the abyss!
In your hands the essence of sin
Six curses of the one
United by blood
Of the pentagrm...
O lord of the night
At your command
The world will ignite...
O lord of the mist
Cold path we follow
Through nothingness of the universe
Where is nothing left to see
And nothing left to feel
Nothingness drives my will
Descending from the pillar
Descending form the sky - adamant!
And his name is meaningful again
Spreading wings
Over omnipresent being
His existence
A perceptible meaning of nightmare
Sensual, se****, devilish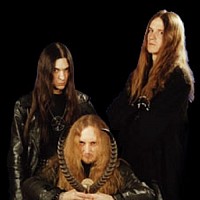 That's where my house stands
Among the flames
Within the deep
Ocean of murk
Black star falling
As the dark eternity is born in emptiness
Take me away...
And bring the latter days
Get me out of here!
And carry me over eternity
Humanity stinks of fear and carrion...
Oh Satan!
Opening my eyes at night
The starry Heaven above me
Oh Satan!
The world is infatuated in your fire...