Silent predator, king of all he surveys
Nature's selection raised him
To supreme heights,
Primal creature untamed
Although man would raise his hand
To have you banished to the ether
He will surely fail
Yours is a kingdom,
Your name shall be ancestor
Long after the demise of man.
Spectral in moonlight, king of the plains
Hunter and hunted yet you remain
The pack shall reign, ebb, move and flow
An entity thriving all its own
Alpha grows while weaklings die
Yet all are outlived as the seasons roll by.
The forest floor your bed, your own
Land once ruled by wolf alone
Primal spirit reign in me
Call of the wild set us free
Hunger burning in his eyes
This kingdom owned by him tonight
(children of the night).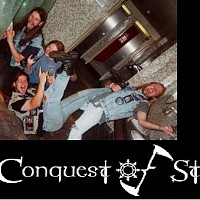 Ever moving, surviving, ever taking, united
They will bleed here, they will seize here
Their prey feared till death stared
In their eyes they became as one.
The unbread beast the hunter seeks
Through endless nights they roam
As a union of purity
Reveals the heir to nature's throne
HAIL MIGHTY WOLF CLAN,
HAIL MIGHTY WOLF CLAN
HAIL MIGHTY,
HAIL MIGHTY WOLF CLAN.