I'm the queen of jungle but don't live in no bungle
Whet my claws on mighty logs, i brush my fangs off hogs
There ain't a beast in the east that wants to make me his feast
Cuz I'm the coolest cat that this town knows
I'm Roaming on and on and on
I'm hunting fauns from dark to dawn
Muting cheers in everybody's lawn
Spreading fear in a single lazy yawn

My game
My rules
My favorite
Hey my score!
n'My kind
You'll find
i feel fine
My scenes
My moods
My ravings and my crimes
Out, roaring rhymes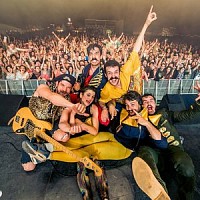 Read an ace on my face ya!
I'm pacing the race ya!
Sip a taste on ma chase cuz just in case you missed coup de grace, it falls in place ya!
Its the mighty Medulla
Yo the great Oblongata
That reigns on my veins cant be contained don't try to tame the top of the chain ya!
I'm Roaming on and on and on
Im hunting fauns from dark to dawn
Muting cheers in everybody's lawns
Spreading fear in a single lazy yawn

My game
My rules
My favorite
Hey my score!
n'My kind
You'll find
i feel fine
My scenes
My moods
My ravings and my crimes
Out, roaring rhymes

i'm the Greater Predator
Say the Bigger the Better
The knives in my eyes don't lie, they defy you to try and squeeze, my paw's a raptor!
Yes I do love my Tuna
Dolphins, belugas
Blame on my veins what you can't explain, don't try to tame the top of the chain ya
I'm Roaming on and on and on
Im hunting fauns from dark to dawn
Muting cheers in everybody's lawns
Spreading fear in a single lazy yawn
A A A A Aaaaaaaaaaar
My game
My rules
My favorite
Hey my score!
n'My kind
You'll find
i feel fine
My scenes
My moods
My ravings and my crimes
Out, roaring rhymes