A night by the castle's side enjoy the power of the silence and obscure
nature feel the forgotten spirits
the last weak light
is burning on my skin
when i feel the shadows
a message of the night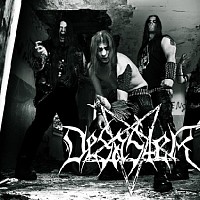 mountains rise
before the dying sun
night will rise
till'the next short day
all sunlight is gone
black clouds wander
i sit under the nightsky
by the castle's side
dream and reality unite
everything seems endless
the pictures of the time
here they rule forever
through dance around me
a whispering into my ear
those who died proud
take me to their realm
faster goes my journey
deeper in the time
will i reach my goal
before dawn will rise?
horses storm through valleys
warrios call my name
the skyline is in flame
blood drops in my hands
a travel in eternity
passing my whole life
wounded is my body
in witch battle i fought?
sorrow falls upon me
i dream in time and space
i fought i fly eternally
a sunbeam kills my dream...