When left to your devices
Allowed to plant your seeds
The only fruits you harvest
Are ones that serve your needs
Now there's a new crusade
And what fuels this great unrest
Is Greed
Greed!
I really don't know how
You can't see that now there's no
Need...for greed...
Ditch the fancy car
Hitch your wagon to my star
And you'll be freed
We tried to live in harmony
To co-exist in peace
Religion and economy
Strange bedfellows are these
Ambitions, plans and purposes
Disguised as basic needs
They are not virtues after all
They are the evil seed...of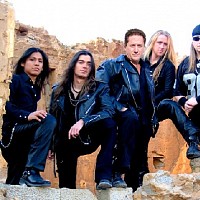 Greed!
I really don't know how
You can't see that now there's no
Need...for greed...
Ditch the fancy car
Hitch your wagon to my star
And you'll be freed
According to one's power
According to his need
Everyone would prosper but for greed
The power and the riches
All bought with genocide
Can't buy a place to hide you from your
Greed! Greed!
I really don't know how...
The evil seed was planted
So many years ago
It's not too lat to save ourselves
We will reap what we sow
The ones that say there is no hope
Who plan this great demise
Might see a different picture
If we learn to compromise
I stand now at the crossroads
A world of lives at stake
So many souls depend on
This choice that I must make
Should I be a good soldier
And do this deadly deed
Or can I try to alter
The nature of the seed
Greed!
Greed!