Share with me your secret yearning
as you feel my tender kiss.
Deep inside your heart is burning
to enjoy forbidden bliss.
Let the passion of this moment
be the reason you require
to betray your heart's desire.
If I must give my soul away,
then spare all those I love this day.
I promise they won't suffer anymore.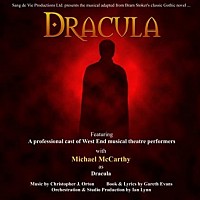 Then take me now in my disgrace,
defile me in your cold embrace.
You know I am the creature you adore.
Set me free in my surrender
by the power you possess.
To embrace love's dark pretender,
to delight at your caress.
As my senses are abandoned
and I smolder in your fire,
I will be your heart's desire.
There is no resistance in your eyes tonight.
You're losing control of your heart.
You need my assistance to know love's delight
and nothing will keep us apart.
It's time to make your sacrifice.
My cruel passion has its price.
Such pleasure I have never known before.
Your kisses are exciting me.
Revealing such delights
as we surrender to the night forever more...
I confess a wicked pleasure
in this bitter love I taste.
But have known delights to treasure
on this night we have embraced.
The darkness in each other,
still ablaze with passion's fire
to become your heart's desire.