When the last god was dying
Being his death agony rending the illusion of creation on shreds
Abandoned, lonely....
His wounds were bleeding by mercy to man
Through the veil of bloody tears there is only desperation
He was looking ... defeated, feeble
Rising black sun was shine on the agony
The dying illusion of the world created by the Demiurge
Triumph of madness broke all the tablets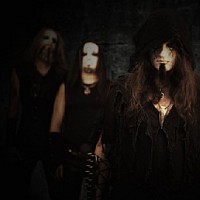 Released the eternal chthonic mights
That were imprisoned outside the cosmic gates
The pillars of the old faith are overthrown
The cycle is broken. Restitution doesn't exist.
The Rebel Spirit had broken the chains.
Triumph of the Beast and the Whore of Babylon on his back
Reveling blood of the saints proclaiming the new cult of beauty, strength and life
Sheep on the slaughter again
Falcon clawed the face and pecked his eyes
Skin hangs loose from his bones...
Flesh is devoured by curling black mass of worms
Flowing down the cross blood is rotting on the sun....
All of this is named Faith....
Those who are worshiping to the holy corps are prostrated.
Despicable creatures that rebelled against the life,
Were Poisoning life itself by its existence.....
Your soul is empty. You have never been alive...
Look prayer - this is the symbol of passing Aeon
To be free and godless - is a new Virtue...