Six and Twenty Thousand Years
Hath I watched between the cosmic spheres
To worlds I've burned where none shall rise
Conjoined at the axis across the skies
May lull ov stars where ancients lie
Give slumber to weary traveler's eye
Through the twisted view ov forgotten shores
Behold thy path ov the blasted lore
These visions return ov tundra and flame
A golden army marches from the west
A citadel stands vigilant yet garrisons lay barren
A sign must be sent forth from the mountains ov frost
He will not take this strange world ov ice
For his blade will continue to thirst!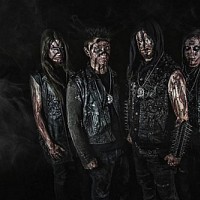 (Choral) Fall!
For you stand accused
(Choral) Blaze!
With the might ov a thousand suns
(Choral) Heed!
The leering eyeless gods
(Choral) Speak!
This culling ov an Elder Race!
Six and Twenty Thousand Years
Hath I watched between the cosmic spheres
To worlds I've burned where none shall rise
Conjoined at the axis across the skies
May lull ov stars where ancients lie
Give slumber to weary traveler's eye
Through the twisted view ov forgotten shores
Behold thy path ov the blasted lore
Lassitude takes its hold
In this oneiramantic nightmare
The stellar wolves call the charge
Moloch's war cry on their crest
Give lamentations upon this fortnight
At the passing ov The Ancients
Mocked by the Eye ov The Twilight's morass!
Let the chariot ov slumber now take thee
For your sacrifice has now been prepared