Do you know the prime numbers?
Some of them are very special
mathematicians wryly call them the twin primes
they feel love but can not meet
like 11 and 13 cause
of an even number that
takes all the breath away and
CLACK
turns off the light!
Right in my brain
a time capsule remains
(forever)
a place in your mind where we can feel safe
(together)
it's not for the same blood
or for the blind nine months
but the same vision of the entire world
My sword
the crack in my shield
I'm strong and weak for you
my will to live
someone to die for
my plan A
my plan B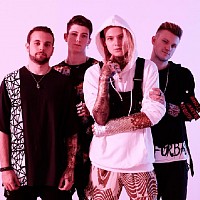 Keep counting until the next but
like 17 and 19
you can find them less and less
and now confess
you feel depressed
turn on the light!
Right in my brain
a time capsule remains
(forever)
a place in your mind where we can feel safe
(together)
it's not for the same blood
or for the blind nine months
but the same vision of the entire world
Then just when you're about to surrender
to quit
when you have no desire
to go on counting
you can see another
pair of twins
the pain
the fear
all this shit
now you can share them
Right in my brain
a time capsule remains
a place in your mind where we can feel safe
it's not for the same blood
or for the blind nine months