Streams of memories runs across his eyes
as he sees a boulder falling from the skies
Dragged through dimensions, not knowing his fate
as toy of torture, more than a man can take.
As he was told:
Seed of agony spreads through you,
scorching 'till theres nothing left.
Casting maelstrom in your head,
to your torment, theres no end.
Torn apart, then whole again.
No rest can come nor prayers tear down
Demons of all dark creations, masters will over limitations
I am you and you are me
we are one!
You thought you would now be alone?
Your hope has fallen.
I'm in your dreams, forever more
in wine you found your relief.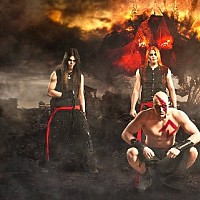 Bloodlust controls in your mind
corrupts you 'till theres nothing behind
maelstrom ruling in your head
with fiery rage you hide your pain
Tears of grief and revelation
Mourning heart and misdirection
Warrior's life with no decisions
sworn not to set himself against the heavens
I know my past, but not what I will be
and it seems too useless to come
what I was and what I can't be now
Once running in downward circles
from depths of hades to deeper places
sinking to sea of regret and shame
Betrayed the ones that laid their trust on me
so great is this pain, it can not been seen
Shards of my shattered soul
seals me to my heart
keeping me there until my end, alone