Can you see how they rise?
The ones of your kind
From the mouldy ground
To wreck the ones who lived.
For the reckoning you fight.
With these cursed eyes
Tears of blood is all I cry!
With those tears I seal the archaic storm
So my realm won't vanish and be no more.
And took the thousand shattered pieces
Of her signet of divinity.
With so silent steps she walks among us for eternity.
For the sake of bitter hate now slaying all who can rest.
For the love of seeing the light in dying men's eyes to fade.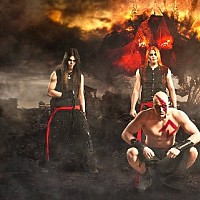 I'm dreaming of a dark forestland.
This time you, my sun, will die.
It is I who rules the night.
Now death is flowing free and I can't die!
And bound in this rotten land.
Fell in this trap like a mortal man.
At the fall of dusk I see the end of a dying race.
The heirs of heroes won't answer the call.
And took the thousand shattered pieces
Of her signet of divinity.
With so silent steps she walks among us for eternity.
For the sake of bitter hate now slaying all who can rest.
For the love of the last heartbeat of an era