He's educated by a defense-mechanism
To encase the mind's status
Still he feeds images of catastrophism
To his think-apparatus
Magnitudes of disorder
Grow, inflourishing bloom
Ejecting through sanity's border
Consuming every room
Be, inhales stardust to the innermost fovea
To find a destructive lore
Exhaling exploding supernova
While he constantly press "stare"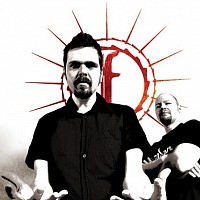 Quantitis of subversion, echo through the mind
Swarmed by symphony of downfall
Continuing the experiment, impossible to unwind
The addiction, that slowly enthrones senses hall
He's like a chaos machine
Processing the world through darkness
A march into the obscene
The tactful leader? Starkness!
All his dreams are employed
By the conjuration of the scary
This inner state has destroyed
That which was a visionary?
Quantitis of subversion, echo through the mind
Swarmed by symphony of downfall
Continuing the experiment, impossible to unwind
The addiction, that slowly enthrones senses hall