evil has taken control
accepting its morbid ways
possessed to deceive your mind
descending from the powers of hell
listen to the sounds of pain
the horrid voices of the damned
feel the fire burn inside
visions of a horrifying world
plunging!
your weak and vulnerable soul
into darkness!
evil takes control
deliverance!
evil spirits await
screams from below as the dark side calls
evil eye ripping through your soul
rulers of the depths arise
turning towards a shadowy grim
dark minds pullet you from within
commands from the ruler of hate
summon the forces of darkness
damnation through the portals of hell
forever in endless pain!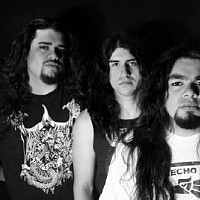 plunging!
your weak and vulnerable soul
into darkness!
evil takes control
evil has captured your soul
hate and despites all you know
evil has captured your soul
by plunging into darkness!!!