Explanation:
On earth, children of the eternal light slowly hear the universal call .
They transcend their fears and unite with the Creation.
Beyond the wall of illusion.
Beyond the wall of death.
They are the ones who will bring back the spirit of real Love into the heart of Men.

Into the shadows of the night
Where all the light seems to fade away
Last hope for mankind, here we stand once again
Under a blackened sun my friend
Trapped by a deadly masquerade
Free men are shining for the world 'till the end
I feel my spirit rising
A power mesmerizing
A cosmic glory in my hands
The universe is calling
The everlasting dream
I feel the power rising again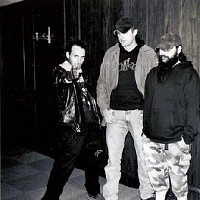 United as one, we're the children of hope
We've heard the call from our soul
Galderian dreamers, we still carry on
For the universal call
CHORUS
We are the children of the earth
We are the ones to break the curse
The universe is calling for all of us
We are the children of the sky
We are the light, the only chance for all mankind
We stand united as one
After millennia of fear
We reach the point where we'll return
Back to the land of light where all dreams remain
And then the sun will rise again
Held by one hundred thousand men
The Universality will shine in our hands
I feel my spirit rising
A power mesmerizing
Now all the darkness fades away
So when the sun shines again
Inside the heart of every man
Into the whole world for mankind
We'll find the way to paradise
Out of the darkness of the lies
Truth and unity, all as one
Beyond the universe we'll rise
Across the sea of a million stars
Out of the void ruled by the blind
Glory of freedom in our hands
Beauty of life to light our days
Love and purity, so divine!!