Explanation :
The Spirit of Life is inside all of us.
This feeling makes us experience the vibrating Creation around us in a phantasmagoria, a complete harmony.
It awakens inside us this joy, and absolute sense of euphoria which actually is being alive...connected with the whole universe.
The Spirit of Life is pure Love.

VAL- A flash of light, a beacon in the dead of night
Can you see? Something's calling from the sky
SEB- Yes I hear! The power of the thunder
Strikes the ground to awake all the dead in mind
PIERRINE- Time to rise, to fly into the endless sky
To feel the breeze of life again
SEB- The air, the sea, are crying out in agony
To tell us to change our way to live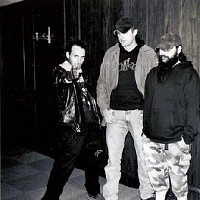 VAL- Now the sky opens wide before my eyes
Millions of stars! Beacons in the dead of night
SEB- Now the dawn emerges at the horizon
We see the sun returning from the underworld
PIERRINE- In the soul, the dream is here for everyone
The sun is shining again my friend
SEB- Flying free, fly into an ecstasy
The breeze of life is inside of me
CHORUS
We dance in the sun
We feel alive and so free on the run
Yes we dance, no return
We chase a dream and the way just begun
We feel alive and so free on the run
Eyes are shining bright! With joy we dance in the sun
VAL- The dream is living inside our soul
SEB- - The way to find it lies inside us all
VAL- Can you feel it? The call from above!
SEB- - Yes, I can hear it. I can hear the call, the call, the call!!!