On a one night's stand it happened
A new life started
It wasn't meant to be
It was a child that was not meant to be
An unwanted child's innocent soul
Became the centre for people's rage and hate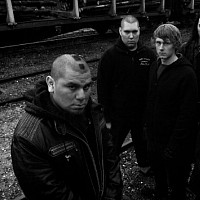 LITTLE JOHN WHY ARE YOU BORN
THERE SEEMS TO BE NO REASON TO LIVE AT ALL
HATED AND REJECTED BY THE WORLD
A LIFE THAT HAD BETTER BEEN LEFT UNHEARD
He struggled through the first grades of school
Tried to get friends and get accepted there
But no one wanted to know an unwanted child
He became the centre of people's rage and hate
Approaching the age fifteen
His life has turned its wheel
He tried to find truth but failed
Like every other dream he had made
LITTLE JOHN WHY ARE YOU BORN
THERE SEEMS TO BE NO REASON TO LIVE AT ALL
HATED AND REJECTED BY THE WORLD
A LIFE THAT HAD BETTER BEEN LEFT UNHEARD
LITTLE JOHN WHY ARE YOU BORN
THERE SEEMS TO BE NO REASON TO LIVE AT ALL
HATED AND REJECTED BY THE WORLD
A LIFE THAT HAD BETTER BEEN LEFT UNHEARD
He began to commit crimes to get rid of the life's pollution
It gave him kicks and he thought this might the solution
Everything seemed to turn alright
He felt strength and great might
Suddenly he became king in his hood
And for the first time he felt in good mood
Could this be the turning point?
After seventeen years of living hell
Could this be the answer of his wishing well?
But one day all the hell broke loose
He was doing one of his raids
When all of a sudden he was discovered by a young maid
Frightened to death he screamed to her "don't move"!
But she answered with a horrifying yell
John pulled the trigger and took an innocent life away
Just nineteen years old
His life was to the prison sold
15 years was the time they said
That was the price of that young maid
But he felt that his life was already dead
Since the beginning they had said
You're not wanted here
There's nobody who for you want to care
LITTLE JOHN WHY ARE YOU BORN
THERE SEEMS TO BE NO REASON TO LIVE AT ALL
HATED AND REJECTED BY THE WORLD
A LIFE THAT HAD BETTER BEEN LEFT UNHEARD
A couple of years came and went
It was a living hell for John to see
So when he got a rope he thought it was heaven sent
Now he could end a life that was not meant to be
As he attached the rope around his head
He heard a heavenly voice who said
"You are loved by me my boy
Come to my open arms and I'll give you joy
Without knowing what that meant
John took off his rope and knelt to the ground
He felt for the very first time that he has found
A love so great and real
A never ending journey started
All that was in the past faded away
JOHN YOU WERE BORN FOR A REASON
BECAUSE I LOVED YOU FROM THE START
I WANT TO WASH YOUR PAIN AWAY
BECAUSE WITH ME YOU'RE ALWAYS ACCEPTED
John had never felt this loved before
And even if some troubles on his way still occurred
He was now a different man
And lived his life to spread the love to his fellow man
After five years he was from prison released
Became a preacher and from the bible he preached
"YOU WERE BORN FOR A REASON
BECAUSE GOD LOVED YOU FROM THE START
HE WANTS TO WASH YOUR PAIN AWAY
BECAUSE WITH HIM YOU'RE ALWAYS ACCEPTED"