Part I - The misery
--------------------
What happened to my life?
I gave you everything and still I got nothing
You said "you'll be fine"
When I drank from your wine
But what did I receive?
Just emptiness and misbelieve
NOW I'M SITTING HERE ALL ALONE
KNOWING THAT THIS IS THE END
WANTING TO END THIS MISERY
WITH THIS KNIFE I WANT TO CUT MY PAIN AWAY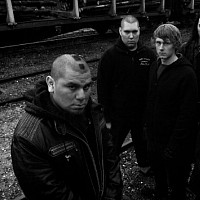 I followed the way you showed
Through drugs, music and sex shows
But it did not fill this hole in my soul
Why, oh why did I believe your lies?
NOW I'M SITTING HERE ALL ALONE
KNOWING THAT THIS IS THE END
WANTING TO END THIS MISERY
WITH THIS KNIFE I WANT TO CUT MY PAIN AWAY
Part II - A glimpse of hope
-----------------------------
"Just when I was thinking it was the end
A glimpse of hope appeared
A book was given to me
They said it contained the light of Him
When I started to read the book from ancient times
Small streams of lights started to fill my inside"
WHAT'S HAPPENING TO ME?
A CHANGE THAT I NEVER THOUGHT COULD BE
FOR THE VERY FIRST TIME IN MY ENTIRY HISTORY
I FEEL REAL LOVE INSTEAD OF MISERY
Part III - The change
----------------------
I cannot really tell
How this burden from my back faded away
Tears began running from my eyes
When I saw Him and received His eternal love
TAKEN FROM DARKNESS INTO THE LIGHT
BECAUSE JESUS HAS WON MY FIGHT
NOT BECAUSE OF WHAT I'VE DONE
IT'S BECAUSE GOD GAVE US HIS ONLY SON
NOW I WANT EVERYONE TO KNOW
THAT JESUS CHRIST'S LOVE IS FOR EVERYONE
PLEASE DON'T WAIT ANOTHER DAY
RECEIVE HIM TODAY!