Out of shape totally blind eternal years spent suffering
Memories of the pain comes haunting as my lifetime expires
Desolation always present eyes open wide at dawn
Afraid to awake no more this pain will be my demise
On the edge of life i'm torn within, tomorrow - will i be alive?
The past and present is non existent in a void of my life
Kept in the dark forever sensing no apparent reason
Imprisoned yet unknowingly free bonds like a ton of bricks
Asking towards within from the outside - what really happened to me?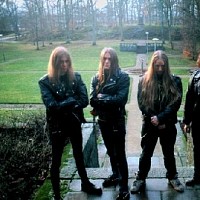 To be drained of life in a hollow shell, inanimate further inside
Traumatic suffering - Contemplating death bring life to despair
Perpetuate darkness - depraved of senses numb to the pain
Traumatic suffering - state of oppression guiding my agony
Perpetuate darkness - life beyond comes to me in the end
Immense panic lurks behind me I feel but I don't understand
After years between these four walls by brain slowly disintegrate
Finally perceiving the facade been kept restrained for the world
Coercive measures was taken in order to avoid chaos in society
Tied to torment inner scars remain, recalling the time of the past
Every minute every day
Voices screaming inside
Telling me to awake
Experiment on the brain
Diabolical pain
Suffocate in silence
The final curtain is dropped before me
No more anguish dwelling cranial conflict
Confront myself and this untimely close
The final step close at hand, at last my hour to die...