Aggressive and violent
Bringing to death
Victims with pure virgins blood!
Possessed with ancient satanic war
Against Jesus and armies of cross!
Blinded by darkness and lights of your cross
Who are you serving at all?
Begging down all your miserable life,
and die like you've never been born!
You hope that you'll live in heavens embrace,
No war, no suffer, no pain
Have you ever asked to your self
How did they washed your brain!?
Taking your time, with taking your money
With the promise your soul will be saved
No one shall burn in fires of hell,
Just put money into our hands!!!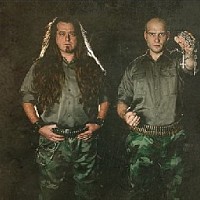 I don't trust to God
I'm not caring lies!
I am my own God,
Fuck Jesus Christ!!