Comes a time
Oh there comes a time
Friends will wander farther from a love of your design
And they were mine
Oh when they were mine
I'd cross the wide ocean for to see that they were fine
Not one of use could hear the whistle blowing
We must have been away out on the range
No-one there to hold you when you're shivering
You get bitten by the freezing winds of change
Sings a song
Oh she sings a song
One for him who did her right and him who did her wrong
Well I was one
I was one of far too many
Who got a little friendly for a little bit long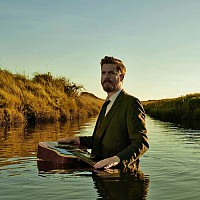 Not her nor I could hear the whistle blowing
We must have been some days out on the range
No-one there to hold you when you're shivering
You get bitten by the freezing winds of change
Who will light a candle when I've passed along the way?
Who will moan as I'm blown away
By and by along the winds of change?
Draw a line
You have to draw a line
It's hard enough to stand up straight beneath the weight of time
Let us be strong
I know my back is bending
But what I am defending is as precious as a song
When at last I hear the whistle blowing
I'll look for one last time along the range
My tired lungs unto the sky delivering
A final breath upon the winds of change
We are carried on the freezing winds of change.