I've seen it all before
I've never lied about everything we've got
Let the heartless bleed
I guess that love is a fantasy
Everyday I'm talking like I'm begging for mercy
Saying' "how the fuck things could be worse?" (It's never been)
You gave me nothing but some pain and regrets
Now I'm done, everything we knew is turning into dust
Do you know what it feels to fight against the man you're not
It's a fantasy every night I'm falling away but it's not waking me up
You said you've never been with me watching the sunset
You cut me open but nothing's beating inside my chest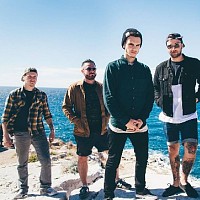 I've seen it all before
I've never lied about everything we've got
Let the heartless bleeds
I guess that love is a fantasy
This isn't what we want
Will you wait to see me fall ?
If the heartless bleed
I guess that love is a fantasy
This should be over it makes me sick am I dreaming, am I living yet ?
Is this a part of me, a part of you ? Am I becoming insane ?
Take me out of this place
Shut the fuck up
I don't know why you defined the rules
When everything I wanted was your darkest truth.
You said you've never been with me watching the sunset
You cut me open but nothing's beating inside my chest
I've seen it all before
I've never lied about everything we've got
Let the heartless bleeds
I guess that love is a fantasy
This isn't what we want
Will you wait to see me fall ?
If the heartless bleed
I guess that love is a fantasy
I don't know why why I'm there,
Everything that we had is blown away
It doesn't seem to be okay oh i'll find yeah I'll find another way
I can't rely on all of you
You're a ghost from the inside out
It just feels like I don't know you, underneath the fucking truth.