Born to fall
But I'll find a way, I ain't giving up
I've been so wrong
Got a pain in my chest I'm gonna lose control
It's just a rainfall, but it feels like storm
Cause every night, I see the devil in a different form
Can't you see all the damage you've done?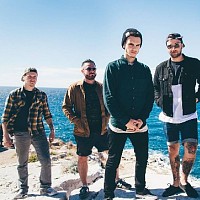 Give me a break
I don't feel anything
I know you feel the same
Because you're the one who broke me.
Take a look at my face
I don't need to pretend
You can see my body shaking, too.
I'm not gonna fake it.
No, I'm not gonna fake it.
I take a deep breath until my head
Stops spinning and starts again
Everyday is a waste of time
It's too late I've got hatred for everyone
Following every trace of you
I can't see your face but I see right through you.
Born to fall
But I'll find a way, I ain't giving up
I've been so wrong
Got a pain in my chest I'm gonna lose control
You're just the devil in a different form
Watch me scratch my skin
Until I find out what's underneath.
And I've been stuck beneath the surface
Echoes of this pain, Hit me hard again.
Don't wake me up until the rain stops.
Until it fades away
Nothing will ever stop this fire
This life has taken a wrong turn.