It was a cloudy night
when the moon was full and bright
she sat alone inside her room
she waited 'till the clock stoke 12
and what she saw, she wouldn't tell
Faces appear before her eyes
false visions in the night
voices scream, awake her fear
will they fade? Or disappear?
She was standing back,
against the wall
waiting for her visions, to stop
the voices screamed, the faces laughed
now is she sane? or is she mad?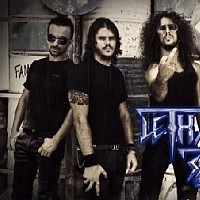 Visions in the night
invade her sight
she's ruled by fear
the end's not near
Visions in the night
for her they fight
she now has learned
she's one of them
Reality stops, and fear takes over
no one else can understand
uncertainty, what can she say
seeing herself fade away
Visions in the night
invade her sight
she's ruled by fear
the end's not near
Visions in the night
for her they fight
she now has learned
she's one of them