(verse 1)
I've been trying to forget,
this heart of mine you know,
do you ever wanna see?
see the tears I cry?
(prechorus)
and I've tried so many times to be the man that you wanted,
cause baby, I need your love.
(chorus)
Take me as I am,
love me like I know you can,
I'm a lonely rider, just tryin' to be a man,
so take me as I am.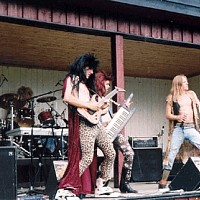 (verse 2)
I know that it ain't easy,
to feel the things I do,
but baby can't you try?
I know that I'd do it for you.
(postsolo)
Up and down the same old street,
but I know that I'm not wrong,
can you feel it baby?
yes I know we'll carry on.