(verse 1)
Take me to places without techno-rases,
where metal and steel can be free.
I wanna feel the power that's real,
as armies of iron unite.
(prechorus)
See us flying high!!,
fear us, as we're taking the sky.
(chorus)
Strong, in our hearts,
massive, forever.
Strong in our hearts, we fight them,
with the forces of power and glitter and glamour of rock.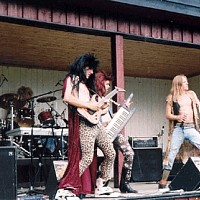 (verse 2)
Our rase is so proud, we're still screaming loud,
cause metal is just for the strong.
No wimps and no geeks, no dj's no freaks,
the emperor of steel is for real.