Yo, tell these motherfuckers who runs this shit
When I fill my CDs up with blood and spit
Watching all sick chicks going run to this
Cause they want to get fucked, cut to bits
And I gladly oblige, yes I love to split
The fine muscles in your neck, yes I love this shit
Then I pack up the chicks in my trunk and flip
The dead bodies in the oceans with the sunken ships
Ay, Yo tell these motherfuckers who the king of darkness
While these other motherfuckers spitting hip hop garbage
And they wanna claim horrorcore, only on the weekends
They don't wanna scare away their little mainstream fans
Make a couple videos and act real' scary
Then pose without shirts on and act like fairies
And everybody plays along with the bullshit
Until Lo Key pulls the chainsaw and schools it
I don't never wanna stop beheading you
I'm only doing what the demons tell me to
There ain't nobody down here helping you
So just do what the mask man tells you to
And Just listen to my Chainsaw Symphony
Just listen to my chainsaw symphony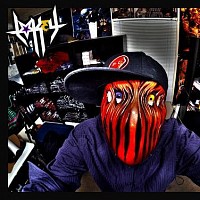 Tell these motherfuckers who spit that wickedshit
Tell em who is never afraid to commit to it
Say fuck the mainstream, and fuck all the masses
Bringing sick tripped out underground classics
I'm a 6 foot rabid, american tragedy
Wearing black mask and a Marilyn manson tee
Waving a black flag, saying "fuck your family"
I'm the definition of incurable insanity
And they've been tryin to keep me at the bottom of the food chain
I'm a pissed off rottweiler on a loose chain
Everybody knows I cut the throats proper
And Lo kevelli openly crush your whole roster
Juggalos got my CD's in thier lockers
And Ipods bumping that american monster
The horrorcores overcome by some fucking imposters
Till I show up with napalm and burn down their concerts
I don't never wanna stop beheading you
I'm only doing what the demons tell me to
There ain't nobody down here helping you
So just do what the mask man tells you to
And Just listen to my Chainsaw Symphony
Just listen to my chainsaw symphony
Swerve pass throwing nerve gas at you
Make the earth crack when I word rap backwards
I am the epitome of everything morbid
Rappers in my closet, necks hanging by a cord bitch
Horrorcore? YES! That's me in the flesh
No need to say sorry I'm eating flesh
Yes I need the flesh, Yes the flesh is delectable
I wrap you in the flesh and make your body my receptacle
For summoning the devil, yes the devil is my bitch slave
Summoning the devil, saying, "Tell me how my dick tastes"
I am not benevolent I'm negative and insane
Try to capture what it sounds like, inside a sick brain
Put it all together and You'll see the perfect image
Of the sick and twisted individual inside your kitchen
With a hoodie and a mask and a chainsaw smiling
Waving at you yelling like Let's get violent!
I don't never wanna stop beheading you
I'm only doing what the demons tell me to
There ain't nobody down here helping you
So just do what the mask man tells you to
And Just listen to my Chainsaw Symphony
Just listen to my chainsaw symphony