It's been years since I have truly felt as if
I did not know what tomorrow holds
Once I lived just as the dice I rolled
But that was long before I called these forests home
My home...
'Round my neck hangs ancient power
Binding me to Lockrian
Where do I belong?
Bound here to the dream
Will I ever be free from this stone?
It changed me forever
How I long to escape
To the life I remember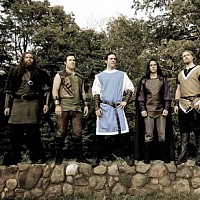 Each day I wake in service to the council and
Each night I fall into her waiting arms
How can I stay when I still feel so restless
But how can I go if it will cause her harm?
My love...
Trapped inside this emerald prison
Suffering by my own hand
What have I become?
(What have you, oh what have we become?)
Bound here to the dream
Will I ever be free from this stone?
It changed me forever
How long to escape
To the life I remember