Amidst the congregation
Of listless spirits walking
Her witness ghastly visage
Stands gazing from afar,
Uncloaked by misty shadow
Uphold the passing dark
Turned to me his onyx heart
And bled me to the stars.
He's held her here a soul in bondage
Her innocence to fade,
Bound by flame scarr'd hand in sorrow,
Locked inside his cage.
Blowing in the wind loom the whispers of our mistress
Hanging in the shadows of her heretic past
Carried by the tree to her waking non-existence
Doomed to carry guilt as the darkened seasons pass.
I held my lover in dreams naïve
Entwined in deception's affair,
The timing of the curse I ravaged
Brought celebration from pulpit's stare.
Tho' weeping then did saints hear sorrow,
He then my flame possessed.
The mask he wore that day of darkness
Would label me possessed.
The pale horse he bore no rider,
The wind swung from the tree,
Trapped inside his box of secrets,
The breeze you hear is me!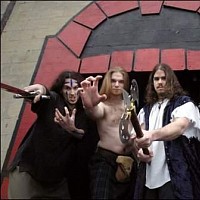 I look into the forest, with steel unclouded eyes,
She's pointing me to spirits by ghostly finger guide,
These are the unseen lonely I now behold with sight,
As midnight turns to dawning—on their everlasting night.