Hunts for horrors that come out at night
Cut a piece off, it continues to fight
Glowing eyes that pierce the dim,
Disgusting munching sounds-
It's dining on a limb!
Trollslayer
Trollslayer
Trollslayer
Trollslayer
Ambush the trogolodytes, but they know no fear
Make sure their chests are bursted with a spear
Bodies burning bright, be sure to grab an eye
Wear it like a necklace, and from steel you'll never die!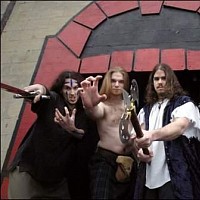 Living each day in a cyanide nightmare,
troll's blood burns armour and skin
Turning twilight into dawn,
troll's eye burns bright as the sun!