Hear the birds, singing their chants,
Among the trees, the melody enchants,
They tell a story written over the years,
Full of happiness and thousand bitter tears.
Once there was a man, the righteous knight.
A mighty warrior who's lost his strength to fight
He met a prophet and he asked him why?
If I were strong enough would I have to die?
I don't want to die!
chorus
March through the lands with candlelight,
We bring the "Eversong", the sound of the night.
Come and listen the song of all hope.
Before the dawn no one is alone.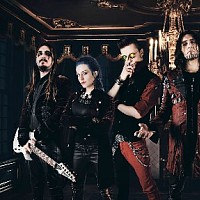 So the "Eversong" is over now,
But we'll meet together again,
In different place, in different time.
And now I say goodbye.