Well, this is radio psycho
It picks you up when you are low
For a little horror show
If you're ready to explode
Here comes radio psycho
Won't make the headlines of the news
And we're surely quite amused that you all know our name
Built a dusk till dawn existence, attacking from the distance
With anti-hero fame
Yuppie scum on channel1 religious cults will all be gone
Pirate airwave bombs!!!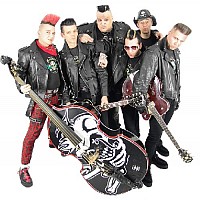 Life can be a heavy load on the wrong side of the road
Put the station back on track
Come on put on your sindicator, nihilistic navigator
For salvation from the crap hiding in the dark,
Behind the shadows in the fog
Pirate airwave bombs!
Hiding in the dark behind the shadows in the fog
Pirate airwave bombs
[Outro:]
Hey, this one goes out to the international sindicate,
the east and west side psychos,
the Berlin city rockers, the dead kings,
the rocking wildcats, p.o.r.k.s worldwide,
the kling klown klan, the demon ted, zombillys, los bastardos (Rotterdam),
the rocking bastards, demon crew, psyclops, mavericks,
Tokyo wreckin crew, zombie wreckin crew, and the devil crew,
all our brothers and sisters from Paris to London, Melbourne to Sao Paulo, Prague t Stockholm?
MAY THE SIN BE WITH YOU!!!