Dead trees turning around in your mind
Unnerving meadow, how do they survive?
Look around, can't you feel?
Doubts and dark clouds have changed your view
Drained colors in this landscape, Oh, I'm outside
You hurt yourself with that same damn weapon
From that evening, I can recall, If your walk doesn't change
This floor you're stepping on won't be different
Dont' be afraid to step into your oath
'Cause this is the way that all stories (are) made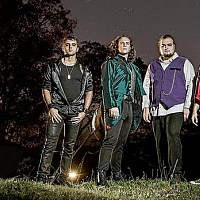 Falling from my eyes tears of a lost one
He could give more than he tries
And he used to say to his heart
Forsake when the rain falls
The actor is afraid to die
Look at me, Son of stars
What've you seen all this time?
Oh, Son of earth, I saw a road walking on a road
Oh, Son of earth, I saw a road walking right over a road
Oh, the Son of earth is the road
Get back to that highway, this path is full of stones
The truth will consume you
There won't be enought illusions to ease your thirst
You fool do you really think your voice is loud enough?
Falling from my eyes, tears of a found one
I am the cross and the crucified!
And I'll say to every heart
Forgive when the rain falls
I am not afraid to die