Every step you take
Without truth - make
Every heart that beats
A solitary drop of dew in a voiceless morning
And if i could not see - i'm by your side
Anything around me - i'm by your side
Waters flat and depp - i'm by your side
I will be here... waiting for you
"this way starts inside your heart
And the lake of your emotions
Will bring back the last piece
All you will see, is the truth"
Beauty place, children's home
A fat witch told: "run from john and mary"
Sweet kids in a man suit
H2O it's equal stage
Bubble-bubble gun, ice scream, can-die bars
Delicacy war is happening, where's my mind?
The leader of the children slaved the heal of all the problems
That's the way it all begun
So one day three clowns came here dressed in red
Followed by a circus and a lady in white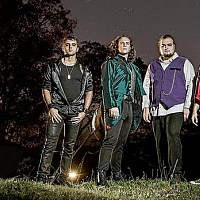 Then everything here has changed
Now ask to the stork
She'll take away to the queen's desire
Arriving in the cage where (the) stork was sleeping
Children's guardian heard our doubt, though and said
You cannot be here, and have to disappear
Wake up, from this deep sleep hurry
Show us how we can leave here without be blurred
There's no place to run away, we'll catch you sooner or later
There's a carriage where candies are hiding
Wish to be there, you're gonna find it
Hold to the hope!
Entering into a room
Where memories fly in chains
One said: "oh darling, hold my hand"
From a drawer of core feelings i found one
And it will change everything
All the waters that born from us
They flow into the lake of emotions
And no matter how you try - you will always be taken
By these waters that flow into the lake of emotions
He'd been searching for his soul
For the last piece
And the mask of peace
Is broken on his face
Sittin here on this dead stone
My eyes are blind
And the shore that lives in me
Is no more than dry
Where's your voice, man?
I'm not dead, i am the life!
Believe in me you're not the bird
But you can fly!
Oh, i'm getting mad
Her tears of accusing me for that
I have not commited any crime
I was just trying to save her life
The key to open that (the labyrinth)
And find the exit to the chest
Is reflected in reality and in the eyes of who can see
Then the man was resurrected
The wall disappeared
And his mask was not broken
Time desappeared
You are free and now back to the beginning
Love and truth walking side by side
Love and truth walking side by side
Now love and truth walking side...
How could you be so innocent? little puppets
This puzzle will be finished here
Understood it? no one can defeat me
Listen to our voices
You don't have a choice
The lake will be consumed
Falling into the lake
The little (ones) with true love
Now a "dig" was born in her heart
I will love you, sacrificing
And the puzzler returned
To the place he came
The man was found
Now he knows why
And he is right, they brought the chest
All steps you take
Coming forth at the end of the way, away
In this boundless lake
Heading the surface of a new day
Lay your head down, i'll hear you say
I am so alone
I'm by your side
I have no love
You have my heart
I have my heart
I have no way
I am your road
The artist is
The crystal doll!
There are more things between heaven and earth than we can imagine
There are more heavens between earth and things we can imagine
There are more earths be between things and heavens than we can imagine
I awake from the dephts of delta waves
Between the smile i've cried
Now i'm back to reach the end!