In the name of the Father, Son and Holy Ghost
Be quick, my brother, and bring me the cross
Keep the candles burning tonight
Avoid the nightmares full of fright
Banish him forever from earth
Never come back for unholy rebirth
This demon of terror is haunting our town
To devour our souls, we need to bring him down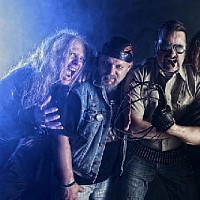 So lock your doors up every night
The leech is bringing fear and fright
He whispers names of those who'll die
You'll be next and then you'll cry
The graves are open and hell is unleashed
When the leech is coming
Oh Lord, give us strength to resist the deceased
When the leech is coming near
With the hand on my cross I open the door
To send him back, back forevermore
Holy Bible, be our guide
With stakes and poles by our sides
Holy water and fierce looks
We avenge the lives he took
The graves are open and hell is unleashed
When the leech is coming
Oh Lord, give us strength to resist the deceased
When the leech is coming here
Keep your doors locked
When the leech is approaching
The scent of flesh and blood
Makes him want to quench his thirst
Don't be his next victim!
In the name of the Father, Son and Holy Ghost
Be quick, my brother, and bring me the cross
Keep the candles burning tonight
Avoid the nightmares full of fright
Banish him forever from earth
Never come back for unholy rebirth
The graves are open and hell is unleashed
When the leech is coming
Oh Lord, give us strength to resist the deceased
When the leech is coming
Chop his head off - Don't be afraid
Cut his heart out - Before it's too late
Let's do our duty - Horrid and vile
Burn his limbs on a funeral pyre now!
Epilogue:
You'll never return from the dead, unholy fiend
Your nocturnal raids have now come to an end
With heaven's might we broke this evil spell
And sent you and your breed straight back to hell

Straight back to hell!