Do you feel? The pain i have?
Inside me?
Do you see? The clouds are
Hiding the sun?
Do you hear? The rain starts to fall?
Do you wish? To sleep at all?
Bouts of fear? Restless mind
Dreaded memories pass in front
Of my eyes
Lost the sense of time!!
Wish!! Only to fly
Blackness is falling me apart!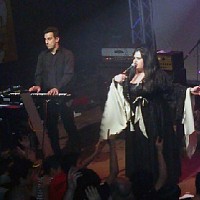 Lying
Crawling
Screaming
For the path of black
Dying
Crying
Knowing
For the endless darkness
Blackness!! Lights my way
Echoes of silent cries
I'm clinging on to my sanity!!
I have lost the sense of time!!
Misery in my entire life!!
Soon!! All will be gone!!
Lying
Crawling
Screaming