Judge: Order in the court, order in the court
Jury have you reached a decision?
Juror: Yes we have your honor
It's just a case of mistaken identity!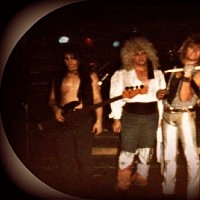 I can see them they're roaming around
They're in the air and they're on the ground
Just look people in their eyes
The demons hide in their disguise
Now they control the air, land, and the sea
They use the elements to fool you and me
Religion, politics are at their command
One world economy for all the land
The demons have their fun I know they're amused
They try to torture and they love to confuse
The end is near and their time is short
Decide before you land in all of hells court
Can't you see it? - Can't ya feel it?
Don't you believe it they're all around
Can't ya see it? - Can't ya feel it?
Don't you believe it, they'll bring you down
I can see the evil in your eyes
Can't you tell when you're speaking demon lies?
They'll play around and then mess up your mind
Can't you tell or are you really that blind?
Can't you see it? - Can't ya feel it?
Don't you believe it they're all around
Can't ya see it? - Can't ya feel it?
Don't you believe it, they'll bring you down