LORDS OF DARKNESS, SAINTS OF STEEL
DEMONS HEAR MY LAST APPEAL
CREATE THE FIRE, RAISE YOUR FIST IN THE AIR!
WARRIORS I CALL YOUR NAMES
JOIN THE FORCE, WE'RE BORN TO REIGN
STRONG DESIRE, CARRY TRUTH IN OUR HEARTS.
ONE VISION - THE HEROES BIRTH
ONE MISSION - AROUND THE EARTH!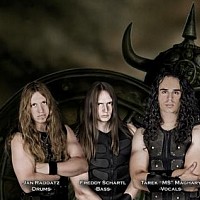 LET THE BATTLE BEGIN
OUR WARRIORS WIN
I AM CALLING TONIGHT
FOREVER MARCH INTO THE FIGHT
LET THE BATTLE BEGIN!
MARCHING TILL THE END OF TIME
IN THE NIGHT A SABLE SIGN
TRUTH AND GLORY IN MY HEART WHEN I RIDE.
ON THE PATH OF VICTORY
BY THE RUINS, MY SPIRIT'S FREE
HOLD THAT HILT OF THE SWORD WITH PRIDE IN MY HAND