Yeshua Mšiha
'eck moth on the cross
The messiah is here
Descensus Christi ad inferos
Salva me
Domine
Demon-Christ
Sacrifice
He rose
He went down
His name
Implied three crowns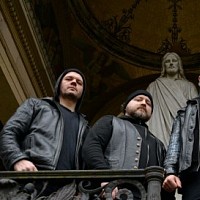 Sabbath of the winds
Guide his descent
To fiery lands
Hellward He descends
To lift what's low
Almighty row
Bubbling tongues of demons
Approaching him
Belauding him
His soul is lost in limbo
Unto dead end
His ghost was send
Salva me
Domine
Demon-Christ
Sacrifice
Christ's rose
Did carry
The breasts
Of Mary
Blood-paid berroth
Ineffable depths lay unlocked
He runs the risk
Up on high the crucifix!
Disturbance
by his might
Descent
into Hell
Creation
In subjection
Transcendence
Ahhhh…
Angels of the light
Aroused to sacrifice
Their words did echo on…
Trisagion!
Holy shrine in Hell
Transformate at will
Pleasures of the flesh
Universal death
Angels of the night
Make the devil rise
Out of the abyss
He comes!
Idolatry!
Gluttony!
Infamy!
Blasphemy!
Fornicate!
Souls of the dead!
Guide your soul to burning Hell!
Guide your soul to burn in Hell!
He doth mourn in Hell
He doth mourn in Hell
Christ doth mourn in Hell